Petoneer – FSW010 Fresco Pro Smart Pet Fountain
 Care for your pets with clean filtered "Flow" Drinking Water.  Cats & Dogs love to drink flowing water.
Fresco Pro Smart pet fountain has a three stage filtration process which effectively filters & removes the hair, impurities, odour & chlorine providing cleaner drinking water to your pets and reduces the risk of developing illnesses.  Monitor and control your "flow" water fountain 24/7 via an app on your phone
Petoneer Fresco Pro Smart Pet Fountain has - 
Innovative design in all aspects
Multiple filtration purification with a unique 3 stage filter system
Water level alerts sent directly to your phone
Built in LED light automatically dims at night
Easy cleaning due to removable water housing
Super quiet operation with customised silicon mat
Smart message alerts are sent directly to your smart phone
Multi-colour visual LED shows water level/filter condition 
Product Details - 
Capacity – 2L
Size – 208 x 198 x 181mm
Weight – 1.2kg
Communication – WIFI
WIFI Range – 30m
Voltage – DC5V1A
Warranty – 12 months 
The Unique 3-stage Filtration
Compared to the common pets' fountains, the Fresco fountain features the unique 3-stage filtration:pre-filtered through a mesh Screens, pushed through activated carbon filter, channeled past ion-exchange-resin filter. 
It can effectively filter and diminish the hair, impurity, odour, and chlorine. Consequently, the fountain can give cleaner water to pets and reduce the risk of developing illness.
Instant Remind & Replace
After a period of time using, the filter will not work effectively by time and water quality will degrade. The Fresco fountain's innovation algorithm will push you messages alerting replace on time according to its watering, the life of the filter, the motor's running time.
Petoneer is smart with APP and cloud behind.
Monitor and control the fountain from anywhere, anytime, as Fresco Pro is born to be cloud-enabled and app-enabled!
Color coded water level and filter usage with multi-color visual LED
The innovatively designed multi-color visual LED reflects water level, filter usage all in one. The water level and filter usage can be felt intuitively.
Before Purification VS After Purification
The unique 3-stage filtration system can effectively filter and diminish the hair, impurity, odour, and chlorine. Consequently, the fountain can give cleaner water to pets and reduce the risk of developing illness.
Cleaning is a Breeze!
The wave-breaking design of bucket separated from body make the cleaning job a breeze. When the bucket is lifted, the power will be cut off automatically to avoid electricity leakage by water intrusion.
Silent Design
To reduce noise by the vibrating motor, the DC motor is deployed with customized silicon matt to diminish the noise to a minimum. You would live more happily with your beloved pets with less disturbance!
FAQ
You can add many pets in Petoneer App  without  limited number.
Total dissolved solids (TDS) comprise inorganic salts (principally calcium, magnesium, potassium, sodium, bicarbonates, chlorides, and sulfates) and some small amounts of organic matter that are dissolved in water.The higher the TDS levels in the water, the greater the probability of harmful contaminants in the water. Normally, the TDS value of purified water is 1. TDS is only one of measures on water quality.
 You can learn water quality by the LED color changing, or read TDS value on the APP.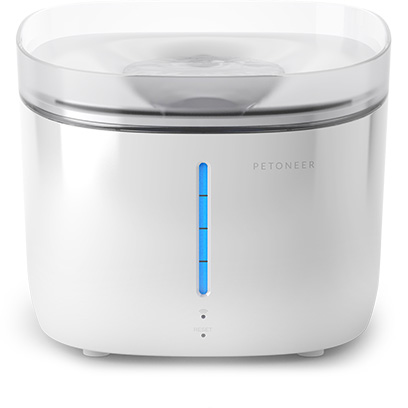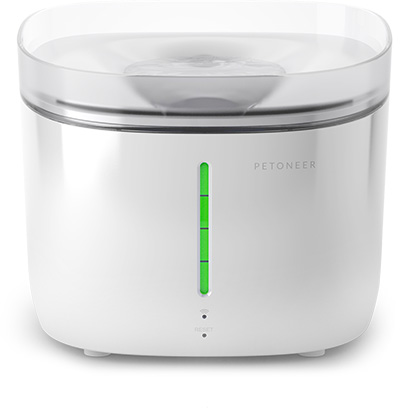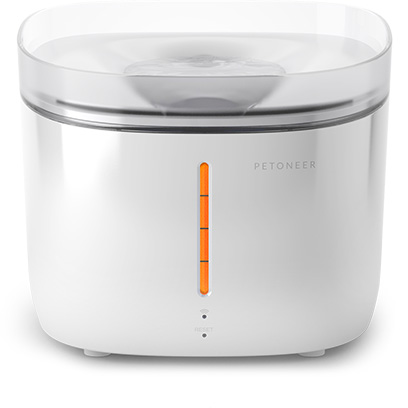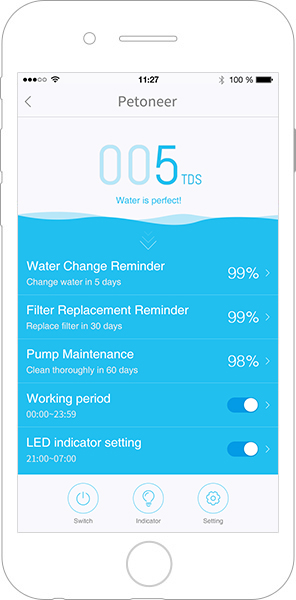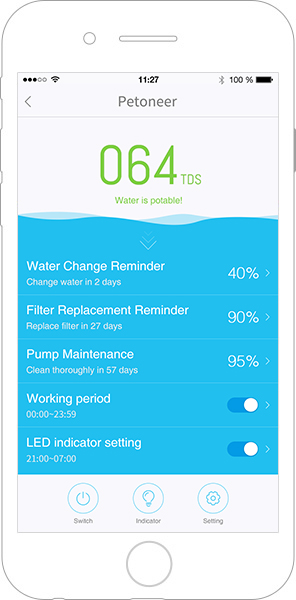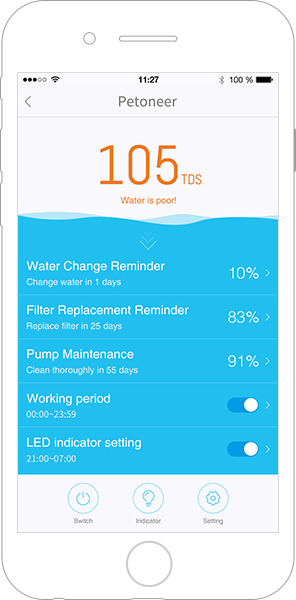 Hi friend, the included adaptor can work on both 110v / 240v, its input voltage range is 100-240v. The fountain works on 5v / 1a DC power only.
When the electricity is cut, if the fountain is connected to a UPS, it will still work for some time; otherwise, it will stop working.
There is no place for putting batteries inside the fountain.
The water flow rate is fixed and cannot be adjusted.
 For Petoneer Fresco replacement pumps filter stickers (4pcs) $9.90 including delivery – please email - sales@flipsideint.com
Petoneer Fresco replacement filter pack – 3 x filters, 3 x sponges, 3 x filter stickers - $39.00 including delivery – please email – sales@flipsideint.com
Customer Support 
Click the link petoneer.com for tutorial videos
Click the link petoneer.com for more information and FAQ
If you have some more questions about the Fresco Pro Smart pet fountain email Support@petoneer.com for more information